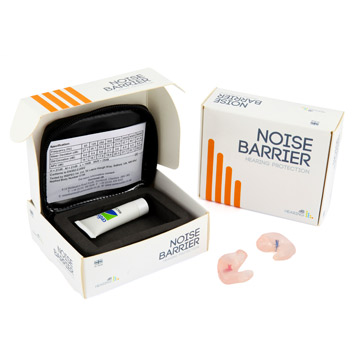 Our NoiseBarrier™ contains an acoustic filter designed to reduce the intensity of sound waves as they get stronger, while still allowing air and sound to pass through.
The wearer can carry on a normal conversation. The normal voice can be heard with a slight reduction of volume, while the background noise is filtered out to a safer level.
Most types of hearing protection seal off the ear with an insulating material such as foam, or silicone; this blocks sound from entering the ear and hearing is protected, but these plugs can create problems.   In addition to the frustration of having to shout to carry on a conversation, wearers are frequently unable to hear sound they want to. Having the ear completely sealed off can also leave a stuffy, plugged up feeling.
NoiseBarrier™ protects hearing without the problems associated with standard,
unfiltered earplugs. NoiseBarrier™ is a fully certified custom earplug (EN352-2:2002)
Some of the benefits of custom NoiseBarrier™ include:-
Contains a patented acoustical chamber which reduces all sound to approximately speech level
Easily fitted in place – will not fall out when in use
Permits wearer to hear and carry on a conversation at all times, without removing the hearing protection
Can be worn continuously without discomfort
Ear channel is not blocked
Made of soft medical grade silicone that can be easily wiped clean
Custom earmould giving the best seal, with the acoustic filter inserted into the sound canal
Does not seal off the ear sounds or passage of air
Has no mechanical or electronic parts to move, wear out, contaminate or injure the ear
Impression service available
NANO Anti-Bacterial coating
Optional neck cord available
Long lasting, several years lifespan
NoiseBarrier™ is suitable for environments where excessive noise is an issue, including :-
Musicians / Vocalists
Attending Concerts / Clubs
Working Environment
Motorsport / Motorcycling
Flight Plugs for Pressure and Stress Relief
Shooting
Machine / Power Tool Operation
Our Quality Control team inspects every custom earmould manufactured by our skilled technicians and is responsible for ensuring that our reputation for outstanding product quality is maintained.